Main content starts here, tab to start navigating
Menus
Slide 1 of 8
Slide 2 of 8
Slide 3 of 8
Slide 4 of 8
Slide 5 of 8
Slide 6 of 8
Slide 7 of 8
Slide 8 of 8
FOR THE SAFETY OF OUR TEAM AND GUESTS
PLEASE WEAR A MASK AT ALL TIMES EXCEPT WHEN SEATED AT YOUR TABLE. THANK YOU FOR YOUR COOPERATION!
This Week's Specials
Chef's Signature Banoffee Pie

chocolate ganache & dolce de leche tart in a pistachio biscuit crust topped with bananas and vanilla cream

$12
Starters
Green Chickpea & Avocado Hummus

Vegetable crudité, dukkah spice, grilled whole wheat za'atar

$16

vegetarian, vegan

Hot Spinach and Artichoke Dip

wilted spinach and artichokes in a cheesy parmesan sauce served with tortilla chips

$16

vegetarian

New York Soppressata Flatbread

Local burrata, torn basil, tomato harissa, Calabrian chili oil

$18

Kung Pao Brussel Sprouts

chopped cashews, sesame seeds, fresno chili

$12

vegetarian, vegan

Saba Portobello Flatbread

roast portobellos, provolone, fresh mozzarella, pesto, rosemary, saba balsamic drizzle

$18

vegetarian

Parmesan Truffle Fries

with black garlic aioli

$12

vegetarian

Butternut Squash Soup

topped with toasted pepitas

$10
Garden Greens
Add Organic Grilled Chicken $6 Add Wild Grilled Salmon $10
crispy Karaage buffalo chicken

tomato, crumbly bleu cheese, corn, cucumber, carrot, green goddess dressing

$18

gluten free

Harvest Grain Bowl

Chopped kale, warm roasted butternut squash, farro, apple-fennel slaw, pomegranate seeds, toasted pepitas, apple cider vinaigrette

$14

vegetarian, vegan

Baby Gem & Kale Caesar

parmesan crisp, sunflower seeds, focaccia crouton, creamy lemon caesar dressing

$14

vegetarian
Sandwiches & Burgers
served with choice of salad, hand-cut fries, or sweet potato fries
Grilled Chicken Ciabatta

pesto aioli, fontina, arugula, sliced tomato

$19

Alfie's B.L.A.T.

Crispy applewood smoked bacon, baby gem lettuce, avocado, vine ripe tomato, basil aioli, on toasted whole wheat sourdough

$16

Crispy Panko Fish Sandwich

apple and fennel slaw, japanese mayo, lettuce, on a poppy seed kaiser roll.

$20

Alfie's Grass Fed Beef Burger

crispy shallots, gruyère, sauteed portobello mushrooms

$20

Organic Turkey Burger

gruyère, avocado, basil aioli, sliced tomato, arugula

$20

organic

Build Your Own Burger

Choice of Beef or Turkey. (toppings $1.50 ea.) bacon, avocado, bleu cheese, cheddar, gruyère, mushrooms, crispy shallots, jalapenos

$16
Mains and Seasonal Favorites
Croque Madame

French country ham, fontina, Swiss, sunny-side up egg, béchamel, on brioche. Served with mixed greens

$18

Oh . My . Mac

creamy burrata on top of a bed of mac & cheese with a crispy breadcrumb topping. Served with romesco bruschetta

$18

vegetarian

Organic Chicken Pot Pie

Pulled chicken, peas, carrots, celery, potato, in a creamy gravy over flaky puff pastry

$22

Char-Grilled Steak Frites

12oz Brandt Beef NY Strip with a peppercorn sauce & hand-cut french fries

$28

Grilled Cheese & Butternut Squash Soup

White cheddar and fontina with fig jam, sliced apples, and wild arugula. Served with a bowl of homemade butternut squash soup.

$20

vegetarian

Classic Fish & Chips

beer battered pollock, choice of hand-cut fries or sweet potato fries. Served with creole tartare sauce, malt vinegar, & char-grilled lemon

$22
FOR THE SAFETY OF OUR TEAM AND GUESTS
PLEASE WEAR A MASK AT ALL TIMES EXCEPT WHEN SEATED AT YOUR TABLE. THANK YOU FOR YOUR COOPERATION!
DAILY HAPPY HOUR WEEKDAYS 12PM-7PM WEEKENDS 3PM-7PM
Old Fashioned $8
Classic Margarita $9
House Wines: Pinot Grigio, Pinot Noir $7
Gun Hill Spirit 76 Pilsner Draft $7
Modelo Cans $6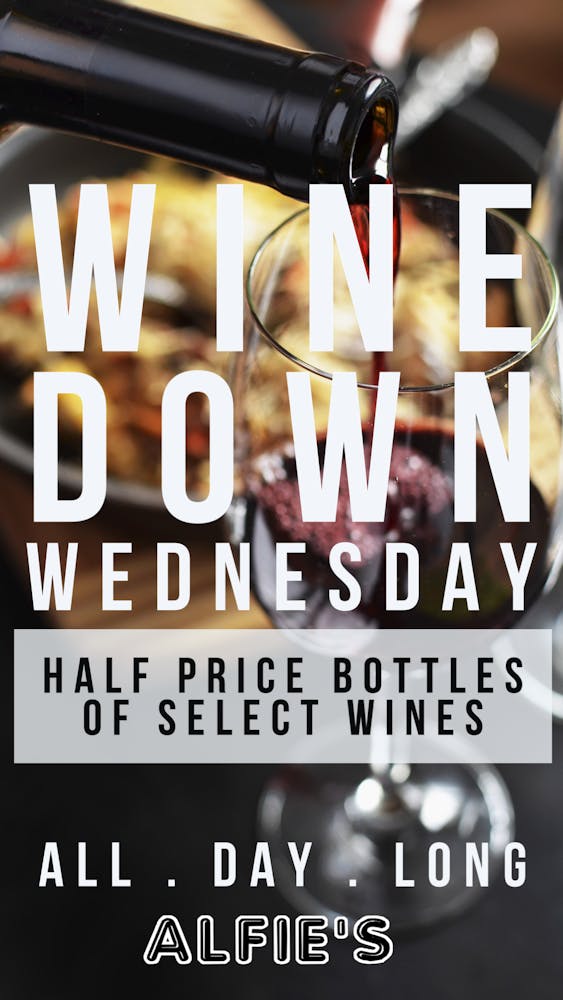 Specialty Cocktails
Gin-icillin

Gin, ginger liqueur, lemon, honey, Laphroaig 10yr Float

$14

Fools Rush In

Whiskey, Five Spice Syrup, Lemon Juice, Angostura Bitters

$14

Summer Dreamin'

Vodka, Amaretto, pineapple, cranberry

$12
Signature Old Fashioneds
Oaxacan Old Fashioned

del maguey vida mezcal, casamigos reposado, agave, angostura and orange bitters

$14

Money Clip

Rittenhouse Bonded Rye Whiskey, Guinness Reduction, Orange Bitters

$14

Smoking Gun Old Fashioned

mount gay black barrel rum, high west campfire, angostura, tiki bitters

$14

Wisconsin Old Fashioned

elijah craig small batch bourbon, demerara, angostura bitters, orange, brandied cherry

$14

Classic Old Fashioned

Whiskey, Demerara, Angostura Bitters
HOT BEVERAGES
Boozy Hot Chocolate

made to order - bourbon, ancho reyes, cocoa powder, milk, vanilla, splash of half and half. Topped with mini marshmallows.

$13

Hot Toddy Teapot

Cozy up with our 18.5oz hot toddy *holds three hot toddys! *. This teapot is perfect for sharing!

$25

Bourbon Hot Cider

Four Roses Bourbon spiked hot apple cider

$12

Irish Hot Coffee

topped with fresh whipped cream and shaved nutmeg

$13

Alfie's Hot Toddy

Bourbon, lemon, clove

$13

TAKE YOUR LAST ROUND OF HOT BEVERAGES TO GO!

Take one of our hot boozy beverages for the road! Available for dine-in and hot beverages only.

$13
Classic Cocktails
negroni

gin, campari, sweet vermouth

manhattan

Rye Whiskey, Sweet Vermouth, Angostura Bitters

Americano Cocktail

Campari, Cinzano Sweet Vermouth, soda

Classic Margarita

Cointreau, Lime, Tequila

spicy margarita

jalapenos, Cointreau, Lime, Tequila

Cosmopolitan

Vodka, Curacao, Cranberry Juice, Lime Juice, Simple

French 75

Brandy, Lemon Juice, Simple, Prosecco

Boulevardier

Knob Creek Bourbon, Campari, Sweet Vermouth
Draft Craft Beer
Montauk Driftwood Ale

6% Montauk, NY This well-balanced English Pale Ale is known for its dark copper color and easy drinkability. Victory malts give this beer terrific toasty, nutty and biscuity flavors.

$8

Downeast Original Cider

5/1% Boston, MA The one that started it all. the original unfiltered craft cider.

$8

Cigar City Jai Alai IPA

7.5% Tampa, Florida. A bold, citrusy and balanced India Pale Ale that involves six different hop varietals used generously. Look for notes of orange peel, clementine, and light caramel to share the story and sunshine of Florida with beer lovers across the globe.

$8

Five Boroughs Hoppy Lager

6% Brooklyn, NY Tropical fruit, lime zest, grapefruit and light pine.

$8

Allagash White

4.2% Maine A traditional Belgian-style witbier, and is an example of one of the few styles beers that was originally designed to be hazy. The beer's haze comes from a combination of yeast and proteins within the malt, oats, and wheat with which it's brewed.

$8

Gun Hill Spirit 76 Pilsner

4.5% Bronx, NY American Style Pilsner

$8

Kona Big Wave Golden Ale

4.4% Hawaii Big Wave is a lighter bodied golden ale with a tropical hop aroma and flavor – a smooth, easy drinking refreshing ale. The use of caramel malt contributes to the golden hue of this beer and our special blend of hops provides bright quenching finish.

$8
Craft Beer Cans
Mayflower Porter

5.2% Plymouth, MA. 16oz. Mayflower Porter is a rich, complex brew that is smooth and full-flavored. Five varieties of malted barley provide notes of roasted coffee beans and bittersweet chocolate with a hint of smokiness.

$10

Sawā Yuzu

4.7% São Paulo, Brazil Sawā is the Japanese translation for "sour", and this beer is our interpretation of this refreshing style of beer. In this version of Sawā we added Yuzu, a Japanese citrus of sharp acidity and extremely aromatic, reminiscent of Sicilian lemon, mandarin and grapefruit. This sour also takes Amarillo and Cascade hops in dry-hopping, further enhancing the citrus characteristics of this rare fruit.

$8

Bluepoint Blueberry Ale

4.6% Patchogue, New York A wonderful blend of fresh blueberries matched with a thirst quenching distinctive ale. We carefully add 132 lbs of blueberries to each special batch. Brewed with 100% American ingredients.

$6
Wine
Murphy Goode Sauvignon Blanc

Glass $10

Murphy Goode Chardonnay

Glass $10

benvolio Pinot Grigio

glass $12

Benvolio Prosecco

glass $11

Murphy Goode Pinot Noir

glass $10

Murphy Goode Cabernet Sauvignon

glass $10

Portillo Malbec

Glass $10
Domestic Bottles
Amstel Light

$8

Bud Light

$8

Heineken

$8

Corona

$6

Magners Cider

$7

Clausthaler n/a

$8
Available Weekends 11am - 4pm.
FOR THE SAFETY OF OUR TEAM AND GUESTS
PLEASE WEAR A MASK AT ALL TIMES EXCEPT WHEN SEATED AT YOUR TABLE. THANK YOU FOR YOUR COOPERATION!
THIS WEEKEND'S BRUNCH SPECIALS
Oatmeal Raisin Pancakes

topped with warm apple cinnamon compote

$14
Bottomless Boozy Brunch
90 minute time limit. no substitutions
BOTTOMLESS BOOZY BRUNCH

choice of: classic mimosa, pineapple mimosa, grapefruit mimosa, bloody mary, bloody maria, select draft beer (valid for 90 minutes)

$25
Brunch Libations
Alfie's Bloody Mary

vodka, sacramento tomato juice, fresh citrus, worcestershire, horseradish & a secret seasoning blend ( or try it with gin or tequila)

$10

Classic Mimosa

$9

Boozy Hot Chocolate

made to order - bourbon, ancho reyes, cocoa powder, milk, vanilla, splash of half and half. Topped with mini marshmallows

$13

Alfie's Irish Coffee

whiskey spiked coffee topped with fresh whipped cream and shaved nutmeg

$13

Bourbon Hot Cider

Four Roses Bourbon spiked hot apple cider

$12

Hot Toddy Teapot

Cozy up with our 18.5oz hot toddy *holds three hot toddys! *. This teapot is perfect for sharing!

$25

TAKE YOUR LAST ROUND OF HOT BEVERAGES TO GO!

Take one of our hot boozy beverages for the road! Available for dine-in and hot beverages only. (refills not eligible)
Breakfast Favorites
Substitute Hand-Cut Fries For Home Fries $4 ( Substitute Egg Whites $3 )
Avocado Toast & Poached Eggs

alfalfa sprouts, pomegranate seeds, tomato confit, radish, red pepper flake on sprouted 7 grain bread, with mixed greens

$18

Jerk Chicken and Waffle

Chargrilled Jamaican jerk chicken, cornbread waffle, fresno chilies, grilled pineapple, Lime and scallion.

$21

Croque Madame

french country ham, fontina, swiss, sunny-side up egg, béchamel on brioche. served with mixed greens

$18

Proper Irish Breakfast

eggs, pork sausage, irish bacon, baked beans, roast tomato, black & white pudding, toast

$21

Rum Custard Soaked French Toast

blue mountain coffee cake crumble, bruleed banana, mixed berries

$17

Country Ham Benedict

hollandaise, poached eggs, cornbread waffle, mixed greens & home fries

$18

Elevated Egg Sammy

fontina, crispy applewood bacon, avocado, black garlic aioli on a semolina roll served with mixed greens

$17

Beach Bod Omelet

bell peppers, onions, spinach, cheddar, sliced avocado, mixed greens & home fries sub egg whites $3

$16
Lunch Fare
Burgers and Sandwiches Served With Choice of Hand-Cut Fries, Sweet Potato Fries or Side Salad
Alfie's Grass Fed Brunch Burger

brandt beef, gruyere, crispy shallots, sunny-side up egg, roasted portobello mushrooms on sullivan street brioche

$22

Grilled Chicken Sandwich

pesto aioli, fontina, wild baby arugula, sliced tomato on toasted ciabatta

$19

Baby Gem & Kale Caesar Salad

parmesan crisp, focaccia crouton, sunflower seeds, lemon caesar dressing

$14

add organic grilled chicken $6 add organic grilled salmon $10

Organic Turkey Burger

gruyère, avocado, basil aioli, sliced tomato, arugula

$20
Sides
$5
Side Salad

arugula, shaved parmesan, lemon vinaigrette

Crispy Applewood Bacon

Pork Sausage

Sweet Potato Fries

Hand-Cut Fries